Today was time to tackle the Kenwood eXcelon DNX6980 2-DIN Multimedia DVD Receiver With Navigation & Bluetooth. Frankly, I did not know much about it, had no idea if it was factory or added later. Well, it was first available in 2011, and we have a 2005 motorhome, so that question is answered. Next, I needed to know if it needed updating, and if so, how. It is not an easy process…you connect a flash drive via USB, or in the bottom left there is a place to put in a very small sim card, much smaller than my computer can handle. So it was the USB method…except the person who installed it hit the usb access under the dash. So I had to remove the outer console, then the inside engine cover that most vans have, and fish out the wires.
While do this, I decided to tackle the non-working auxiliary power outlet above the cigarette lighter. Well, all I could find out about this without taking more of the dash apart is that there is nothing connected to the auxiliary power outlet. Hmmm, wonder if the installer of this fancy GPS/Radio/DVD/CD/etc player unhooked something and did not reconnect it?
As you can see from this rear view, this thing is a monster. There is so much under this dash I am not sure we can figure out the auxiliary power outlet without taking the dash apart…perhaps Arny might be able to do his magic. Bottom line, I was able to get our I-Pod to connect, found out that we have life-long traffic, but we will need to purchase a Garmin update for the maps if we choose to do that…along with a 10 gig flash drive for the updates unless I want to use the one I carry with me that has lots of backup stuff on it.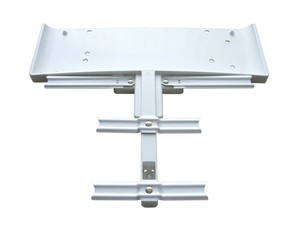 Earlier in the week our Winegard RV-WING Wingman White UHF Booster TV Antenna came, so I got on the roof and installed this to our Winegard Antenna. This was the third booster I have purchased, and it does help bring in the UHF channels better. Had one on my 5th wheel, bought but never had the chance to install on the Jayco before it burned up, and now this one. It took about 5 minutes to install, and I did a quick check of the sealing done at PPL a few weeks ago. Looks like we should be leak proof on the roof for a good long time. One downfall with this motorhome is not having a ladder attached….makes it a bit scary for one who does not appreciate heights, that's for sure…but I made it ok.
````Well, I let down MailChimp by missing a step in programing it to send out the blog. Rookie mistake for someone who has not been a computer rookie for 30 so years now. This blog should send out Saturday around noon eastern time….I have my monkey fingers and Skruffy's tail crossed for good luck. (Bubba doesn't have much of a tail, or I would tie his too!) I know other fellow users of "blogger" are struggling with the emailing of their blogs. If this works, I will try and write a blog about MailChimp in case they wish to do what I have done.